In the last four decades or so the poultry sector has grown fastest in the livestock sector transferring itself into supplier of most economic sources for protein for consumers through development of value chains.
The sector through applications of technologies and collaboration with various stakeholders in the value chain is gearing up to meet rising demand for healthy poultry products through taking a series of measures.
The growth in India poultry industry is being driven by the rising disposable incomes and change in food habits. The shift from the traditional diet, which relied heavily on pulses, to food products such as meat, eggs, and dairy products to meet the protein requirements is significantly aiding the industry growth. The increasing awareness about health and wellness is further driving the demand for a protein-rich diet.
According to the Economic Survey (2022-23), the livestock sector comprising dairy, poultry meat, eggs and fisheries witnessed a compound annual growth rate (CAGR) of 7.9 per cent during 2014-15 to 2020-21 (at constant prices), and its contribution to total agriculture GVA (at constant prices) has increased from 24.3% in 2014-15 to 30.1% in 2020-21.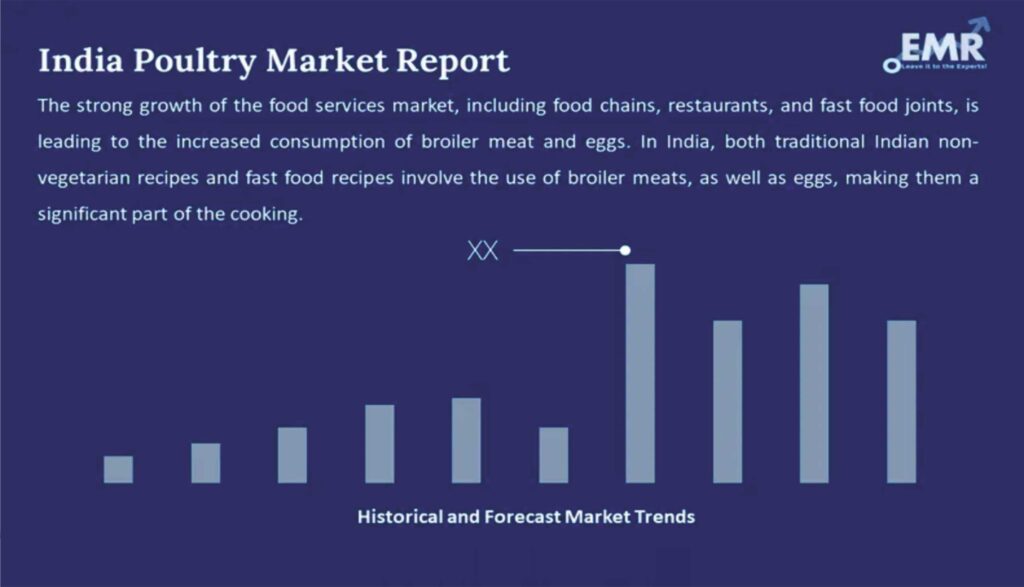 According to the department of animal husbandry and dairying annual report (2022-23), poultry production in India has taken a quantum leap in the last four decades, emerging from conventional farming practices to commercial production systems with state-of-the-art technological interventions. Broiler meat production in the country is estimated at around 5 million tonne (MT) annually.
According to EMR market research, India poultry market currently valued at USD 28.18 billion, is expected to grow at a CAGR of 8.1% in the forecast period of 2024-2032 to reach a value of approximately USD 44.97 billion by 2032.
During the 2022-23, India exported poultry and poultry products to 64 countries, generating revenue of USD 134 million.
The adoption of modern technology was a game-changer for the industry. Improved feed formulations, automated systems for feeding and temperature control, and state-of-the-art disease management practices revolutionized poultry farming. These innovations enhanced production efficiency, leading to increased output. Since the 1990s as India underwent economic liberalization and urbanization, there was a noticeable shift in dietary patterns. Urban consumers sought convenient and readily available sources of protein. Poultry products, particularly chicken meat and eggs, emerged as affordable and accessible options as protein rich food.
India's rapidly growing population is a direct driver of demand for poultry products. With more mouths to feed, there is a continuous need for affordable and nutritious sources of protein. As incomes rise and lifestyles evolve, dietary habits shift towards increased protein consumption. Chicken meat and eggs are perceived as healthier alternatives to red meat, driving up demand. Poultry products are often more affordable than other protein sources, making them accessible to a broader segment of the population. Poultry production can be influenced by seasonal factors, including extreme weather conditions. These fluctuations can lead to periods of oversupply and shortages.
Fluctuations in feed prices directly affect production costs and, consequently, supply. Advances in poultry farming techniques and technology have improved production efficiency. Farms that adopt these practices can produce more, potentially leading to oversupply. Consumer awareness regarding health and safety issues can influence demand. Food safety incidents or concerns about antibiotic use in poultry production can affect consumer choices.
The Indian poultry industry is focussing on a multifaceted approach in adopting technologies, minimising production risk and improving supply change management to sustain the growth of the sector.
Use of Technologies & Analytics in Market Research & Consumer Behaviour
On forecasting of demand and supply situation, advanced data analytics tools and software are currently available to poultry producers, enabling them to analyse historical data, market trends, and consumer behaviour. These tools support poultry farmers to make informed decisions regarding production volumes and timing. India's diverse climate can impact poultry production, leading to seasonal variations in demand and supply.
Poultry farmers or producers employ seasonal adjustments in terms of breeding and hatching schedules to match the market's demand. For instance, in regions experiencing extreme temperatures, production may be scaled down during the summer months to avoid stress on the birds. Automated feeding systems, temperature control systems, and data-driven management tools optimize resource utilization and reduce production costs. This efficiency helps producers maintain competitive pricing and a steady supply.
Diversification into Value Added Products
Beyond poultry products like chicken meat and eggs, diversification has to become a key strategy for expansion of the poultry sector. Currently producers are focussing on the development of value-added products, such as processed poultry items including sausages, nuggets, and ready-to-cook meals. These products cater to the evolving tastes and preferences of consumers, offering convenience and variety especially for younger consumers. Poultry farms are increasingly expanding to different regions to mitigate risks associated with localized supply disruptions. By establishing operations in multiple locations, producers could reduce their vulnerability to disease outbreaks, adverse weather conditions, or logistical challenges.
Optimization of Supply Chain & Marketing
Producers and processors are streamlining supply chain operations to minimize waste and ensure timely distribution. Advanced logistics and transportation management systems facilitate the efficient movement of poultry products from farms to consumers. This optimization reduces the chances of product shortages due to logistical issues. Well thought out marketing campaigns in the similar line of National Egg Coordination Committee's 'Sunday Ho Ya Monday Roj Khao Ande' (Sunday or Monday, have eggs daily) are essential for increasing consumer awareness and demand. Poultry Companies have started to invest in advertising, branding, and promotions to highlight the nutritional benefits of poultry products. These efforts create consumer loyalty and boost demand. Indian poultry producers are exploring export opportunities. By tapping into foreign markets, they diversify their revenue streams and reduce reliance on the domestic market. This strategy helps manage supply levels more effectively.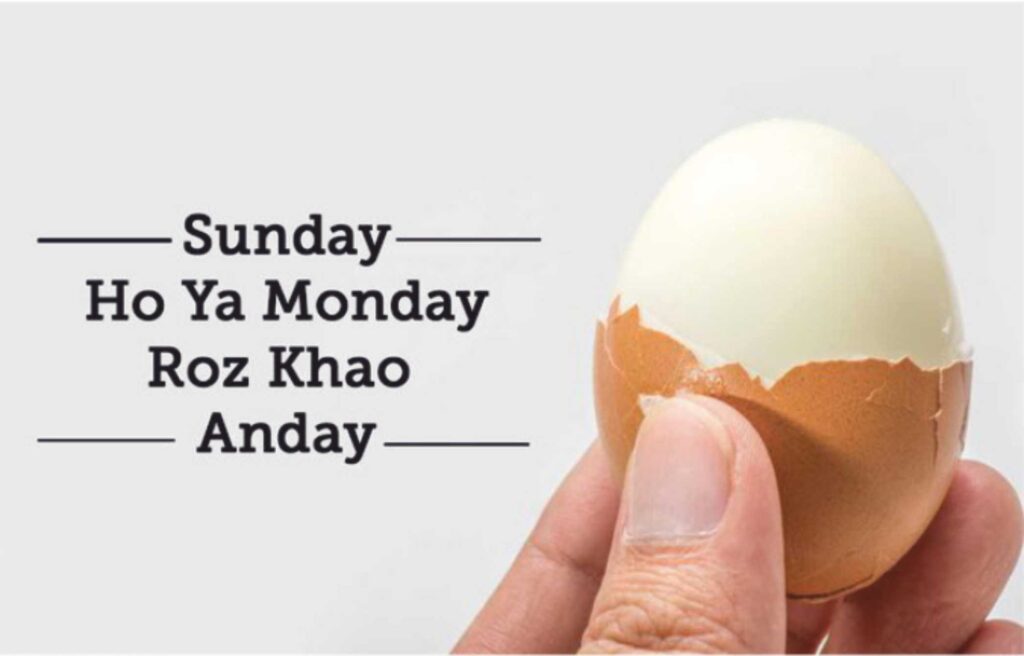 Collaboration with Government on Regulations
Working closely with the government agencies both at the centre and state levels have become crucial for the poultry industry's growth. Poultry sector works closely with regulatory bodies to develop policies for ensuring food safety and quality standards. Government also provides support such as financial incentives, subsidies, and infrastructure development. The government's role has been critical in initiating effective measures in dealing with disease outbreak and emergency response. Timely and coordinated efforts during disease outbreaks help minimize disruptions in the supply chain.
Collaboration with Various Associations in the Value Chains
A number of industry associations, both at the national and regional levels, play important roles in supporting poultry farmers. These associations advocate for policies that promote sustainability, ensure the availability of quality inputs, and provide a platform for knowledge exchange and problem-solving. Bodies such as the Poultry Federation of India (PFI), The Compound Livestock Feed Manufacturers Association (CLFMA), Vets in Poultry (VIP), Indian Federation of Animal Health Companies (INFAH) and several state-level organizations, are the key support for the industry, fostering growth and resilience among poultry farmers.

In addition, the World Organisation for Animal Health (WOAH) recently has approved India's self-declaration stating that it is free from Highly Pathogenic Avian Influenza (HPAI), commonly known as bird flu, in specific poultry compartments. The approval to this self-declaration is expected to open up new opportunities for Indian poultry in the global market, contributing to the country's economic growth. According to the ministry animal husbandry statement, India gave a self-declaration that it was free of HPAI in 26 poultry compartments, which was approved by WOAH on October 13, coinciding with the World Egg day. These poultry compartments are located in four states — Maharashtra, Tamil Nadu, Uttar Pradesh, and Chhattisgarh.
With such collaborations with various players in the poultry value chains, the sector is poised to meet rising challenges and provide consumer demand for healthy chicken meat products in the coming decades.
Source: Poultry Creations
Wings of Growth – The Expanding Landscape of India's Poultry Sector-Ricky Thaper Treasurer Poultry Federation of India